Widex Hearing Aid Domes
£10.00
Widex hearing aid domes are only for use with Widex receiver-in-the-canal hearing aids. They are available in 4 different styles with 2-3 sizing options.
Brand : Widex
This product Includes : 10 x of selected Widex Hearing Aid Domes
Description
It is ideal to change your hearing aid domes often, to reduce wear and tear. This can vary from 1 month to a year dependant on your personal wax build-up, and usage. More regular changes can help avoid the build-up on wax and debris in your hearing aid receiver and keep things functioning fully for optimum sound performance.
Widex Hearing Aid Domes can be placed on any strength of Widex stock receiver you have – standard, medium or power. (If you have a custom tip receiver, you will be unable to use domes). Sold in a pack of 10.
Though it is best to check with your hearing aid provider which size and style you have, we can also help you identify what you need if you email a photo of your hearing aid with its current dome on to sales@hearingaidaccessories.co.uk.
PLEASE NOTE: We are more than happy to help identify which dome you need if you are unsure, but please note domes are NON RETURNABLE when they have been opened due to health & hygiene purposes. Please be sure on your dome type, and size, before purchasing to avoid disappointment.
How to change your hearing aid domes
Available styles:
Open – available in extra small, small and large. Rounded style with holes which allow for natural sound to pass into the ear canal, usually opted for when low frequency hearing is good but high frequencies are down.
X Small 5mm, Small 7mm, Large 10mm
Round (one vent or two vents) – available in small, medium, and large. Sometimes referred to as "closed" domes. Bud shaped style with tiny openings for ventilation, usually opted for moderate hearing loss.
Small 8mm, Medium 10mm, Large 12mm
Double – available in extra small, small, medium, and large. Bell shaped style with double skirts for better seal of sound. Usually opted for those with moderate-severe hearing loss.
X small 6mm, Small 10mm, Medium 11mm, Large 13mm
Tulip – available in medium or large. These domes have two overlapping petals, rather than a full skirt which can make for a better fit in tall and narrow canals.
Each style has a loop over the sound opening to stop wax build up and blockage of sound.
Medium = 8mm, Large = 10mm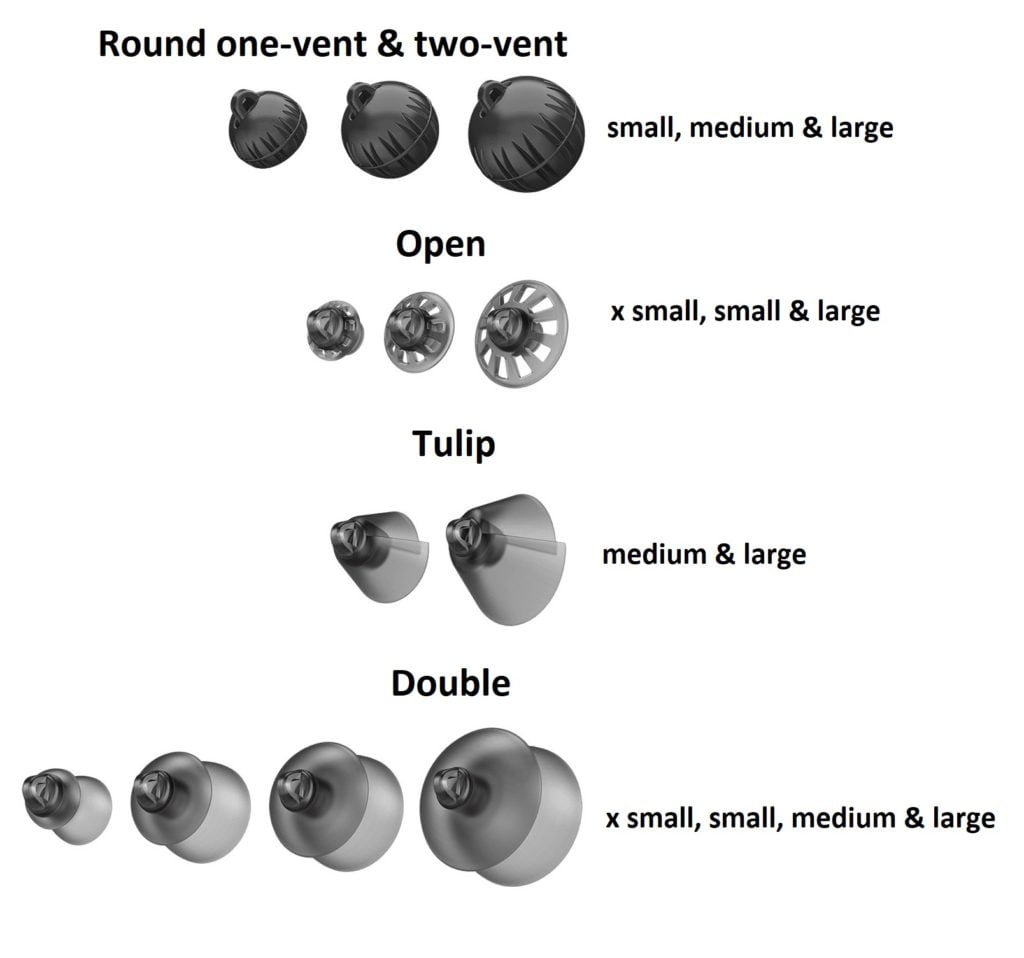 Additional information
| | |
| --- | --- |
| Style | Double, Tulip, Open, Round 1 Vent, Round 2 Vent |
| Size | Extra Small, Small, Medium, Large |