Phonak Marvel Charger Case Combi for Marvel, Belong & Paradise
£97.00 £80.83 (ex VAT)
Phonak Marvel Charger Case Combi compatible with Marvel, Belong & Paradise Hearing Aids including. The Phonak Charger Case Combi is a charger, drying kit and protective hard case all in one.
Brand : Phonak
This Product Includes : 1 x Charger Case, 1 x Charging Cable, x1 Power Supply Plug and User Manual
10 in stock
Description
Phonak Marvel charger, drying kit and protective hard shell case all in one. Available for rechargeable Audeo Marvel & Paradise hearing aids. It is attractive in design, with smooth round champagne coloured surfaces and the Phonak logo on the top.
Compact enough for travel or for taking on-the-go if you want the security of having access to charging with you anywhere. Without the charging cable, it is still a handy hard case to keep your hearing aids in if you need to remove them for any activities or appointments.
The clip locking system makes the hearing aids very secure inside the case which protects against physical trauma like drops or pets that might get hold of the charger.
Charging your hearing aids:
Inside the charger are the two slots for each hearing aid, coloured blue for left and red for right. There is a recess for your receivers to sit in. Once plugged in and hearing aids inserted they will flash a light indicating charging has began.
100% charged in 3 hours, 80% in1.5 hours. 
Once charging is complete the lights on the hearing aids will stay a solid light. You can either keep you case open, or close the case while your hearing aids are being charged.
Features:
Phonak rechargeable hearing aids are the first to feature a specifically designed built-in lithium-ion rechargeable battery that provides a single day of hearing including unlimited streaming. With 40% more power than conventional rechargeable batteries, lithium-ion is reliable and capable of supporting the superior technology and performance of Phonak rechargeable hearing aids. Now you can enjoy the freedom and confidence of knowing that your Phonak rechargeable hearing aids are conveniently charged and ready for use all of the time.
Sleek Chrome Coloured Design
Lightweight, 92g
Coloured hearing aid slots, blue for left, red for right
Space for your mould & receivers during charging
Drying Capsule slot to turn your charger into a drying box when not plugged in
Push Button Opening
Rubber pads on the bottom
Compatibility:
Audeo Marvel
Audeo Belong
Audeo Paradise
Bolero Belong
Sky Belong
Naida Belong
Product Specifications:
100 mm Length, 75 mm Width, 45 mm Depth
Weight 92g
Please note the below photo features the OLD style Combi Case, the new version no longer houses or includes the cleaning tool.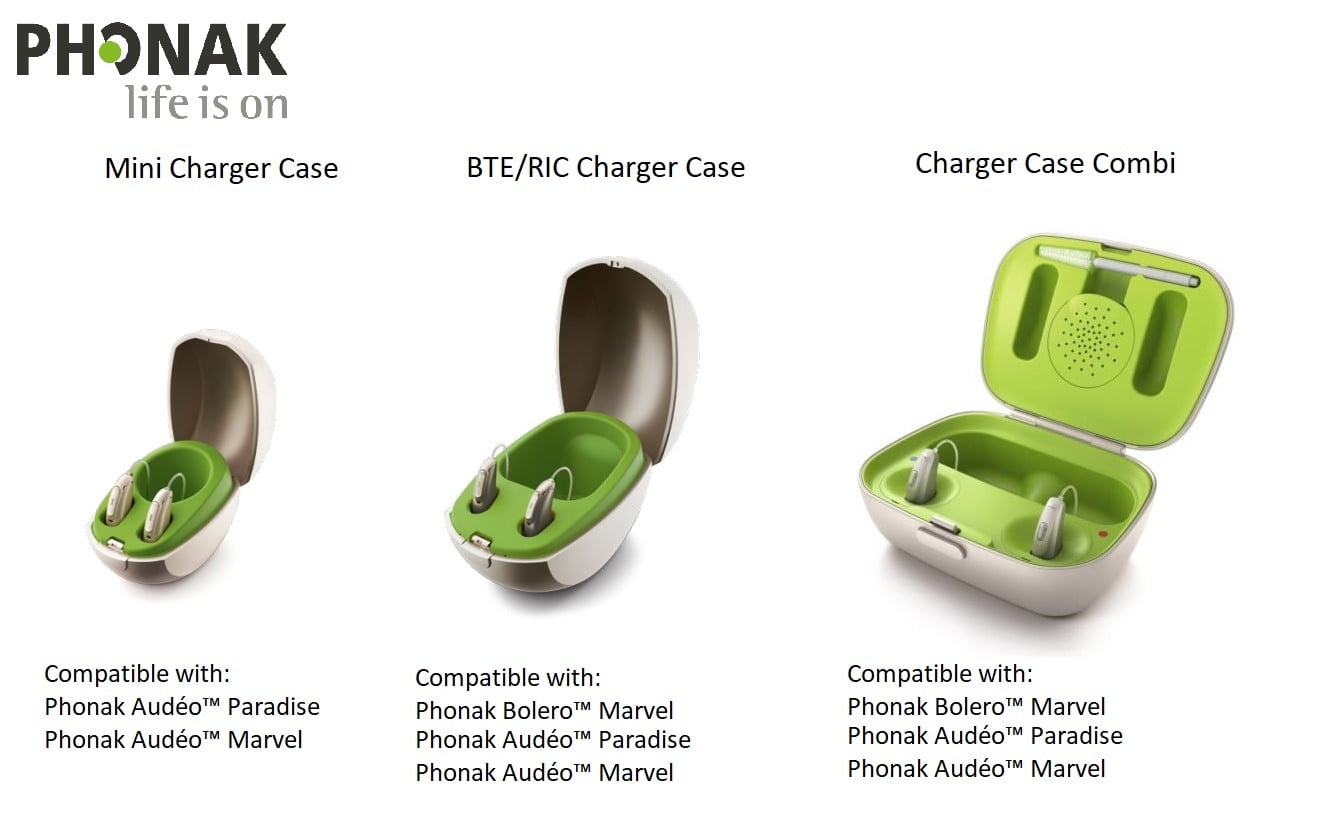 Related products
Quick View

Sale!

£

150.00

£

83.33 (ex VAT)

Sale!

£

8.00

£

3.33 (ex VAT)