DeafMetal®Silver safety ring
£18.99 £15.83 (ex VAT)
This silver DeafMetal safety ring is an elegant way to keep your hearing aids from falling from your ears. With this sleek tool, you can keep them safe, secure and firmly in place throughout the day.
This stylish and discreet product is suitable for all hearing aids, including cochlear implants – all without the need for an ear piercing!
Brand: DeafMetal
Includes: 1x Silver safety ring
Add one more DeafMetal item to your basket and receive 10% OFF!
4 in stock
Description
Small, subtle and sleek, this silver safety ring is perfect for keeping your hearing aids firmly in place.
How to Use:
Simply clip the safety ring to your ear and hearing aids. Do note, that to fit this properly to your hearing aid you will need to attach it to a holster (sold separately). These holsters are made from hypoallergenic silicone which is kind to your skin. In addition, they come in a wide variety of colours suited to your taste.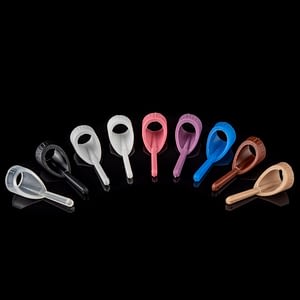 Holster is sold separately on our website.
Compatibility:
Suitable for almost every single type of Behind-the-Ear hearing aid. If you are unsure about your device's compatibility, then do not hesitate to get in touch with our dedicated support staff.
Key Features:
Easy-to-use
Lightweight
Sleek
Stylish
Helps keep your device safe and in place
What's included:
1x Silver Safety Ring
Please note: All DeafMetal jewellery is sold as a single piece. This is because there are many people who only use one hearing aid.
When buying in pairs, a 10% discount will automatically be added! However, this applies to website customers only and is not available on eBay at this time.
Remember to tag @hearingaidaccessories and #deafmetalcommunity #deafmetal